Returning for a sixth year, the opportunity represented many rewards for Regina Cougars captain Lilla Carpenter-Boesch. Although the decision required a degree of reflection during the offseason, once onboard, the level of commitment and character employed set an empowering tone.
Wearing the number 17, the highly skilled forward finished as the Cougars leading scorer, recording a career best 19 points. Tying for the Canada West lead with 10 goals, Carpenter-Boesch enjoyed a six-game scoring streak from October 22 to November 6. The results of her stellar efforts not only propelled the Cougars into the postseason, she gained Team MVP honors.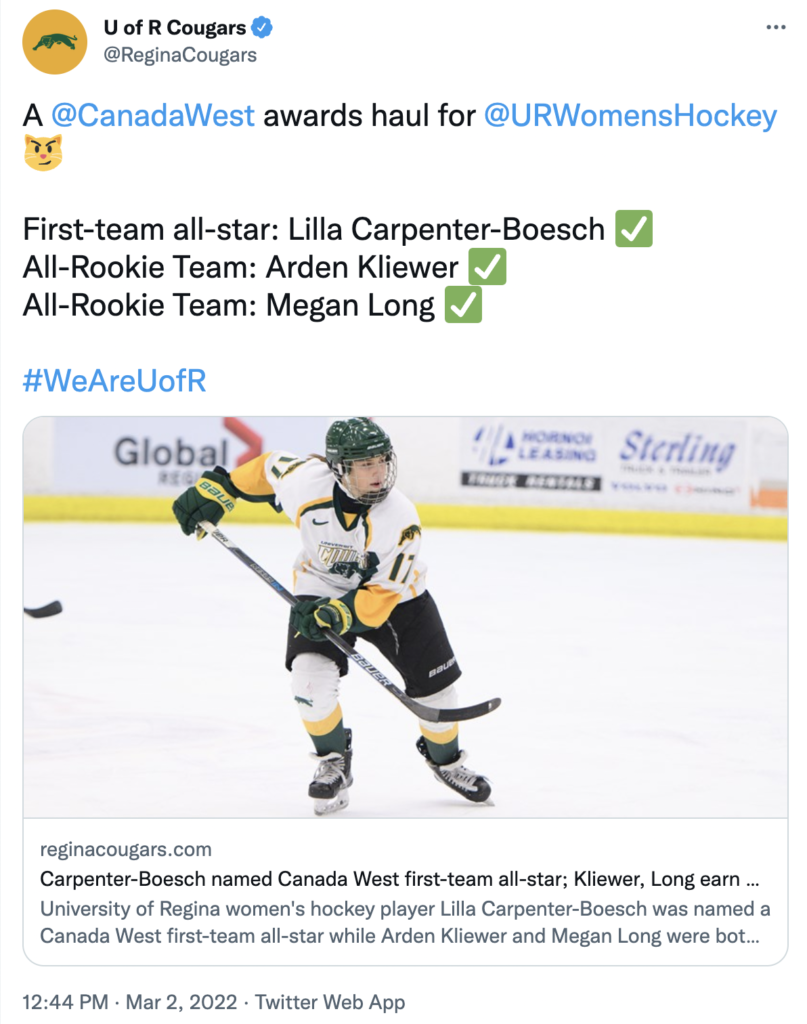 Also a finalist for the University of Regina's Female Athlete of the Year Award, another aspect of acclaim involved recognition as a 2022 Canada West All-Star. Undoubtedly, the feelings of pride and validation accentuated the greatest achievement of her brilliant Cougars career. With teammates Arden Kliewer and Megan Long earning a place on the All-Rookie Team, both found a positive example and valued mentor in the celebrated captain.
"For me it was a huge honor, but it also allowed me to recognized (for) all the hard work I put in the past year. I had a lot of things to improve upon as a person and a player.
I knew I had a long way to go as I decided late into the summer that I would return to complete my sixth year and final year of eligibility.
In the end, being named a Canada West All Star prompted me to reflect and give myself credit, as I had to overcome a lot of difficult moments and challenges to become the athlete and person I am now.
For a long time, I would not let myself be satisfied or overly content with myself or a performance, but being a first star is a huge accomplishment and I am very proud of myself and my performance this season."
To continue reading, click here: WomensHockeyLife.com