Emerging as one of the first star players upon the revival of the University of New Brunswick Reds women's ice hockey program, Ashley Stratton brought an enthusiasm which set a positive tone. With a storybook ending to her final Reds season, from the Atlantic University Sport championship, to reaching the medal round at the U Sports Nationals, Stratton was synonymous with success.
Hailing from Mount Pearl, Newfoundland, Stratton brought a fundamentally sound skill set to a Reds program eager to return to the ice. Amassing a solid 15 points during the 2018-19 seson, the Reds definitely had a gem in Stratton. She would shine brighter the following season, capturing her first AUS Most Sportsmanlike Player Award, while earning a place as a 2020 U Sports Second-Team All-Canadian, respectively.
Sporting a 10-2-0 record when Stratton logged at least one point in 2021-22, her achievements proved crucial in a historic campaign. Finishing the season with 20 points, ranking tenth in the nation, Certainly, leaving her mark in program lore, a monumental milestone saw Stratton tie Amanda Wuerth as the program's all-time leading scorer with 59 points. Taking place during an exciting 4-0 shutout win on November 30, 2021 versus Les Aigles Bleues de Moncton, it was only fitting that Stratton's goal was the game-winning tally.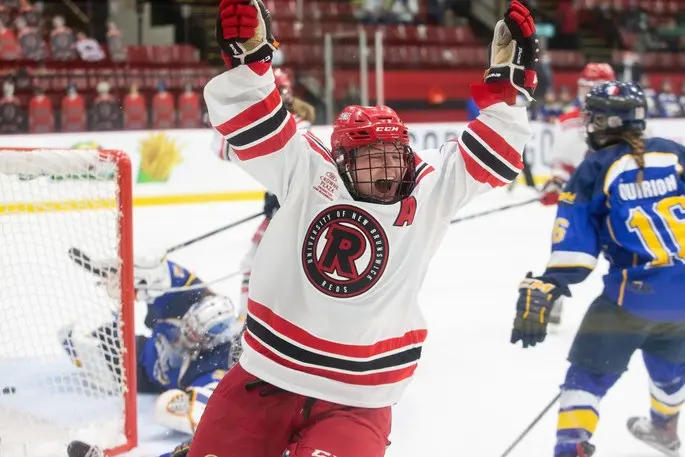 Although Stratton would eclipse the mark by seasons' end, attaining an exceptional 65 points, an even greater achievement was destined to follow. Signifying a seminal moment for the Reds, a March 6 tilt with the Saint Mary's Huskies resulted in a 3-0 triumph, clinching the regular season title. Prevailing in a 3-0 final, it was only fitting that Stratton scored the game-winning tally. Following it up with the postseason conference crown, defeating St. Francis Xavier in a stunning 4-0 final, Stratton earned an assist on Alayna Wagstaff's third period goal, placing the game out of reach.
To continue reading, click here: WomensHockeyLife.com