When the University of New Brunswick Reds returned to Atlantic University Sport competition in the autumn of 2018, Jenna MacLean emerged as one of their most promising players. Earning a place on the AUS All-Rookie Team, her progression as a key contributor and strong leader enabled her to become a dependable presence, anchoring the defensive unit as the Reds quickly rose to national prominence.
Raised in Wilcox, Saskatchewan, where she starred for the prolific Notre Dame Hounds, MacLean was destined to wear the Reds jersey. At the Canadian U18 Nationals, MacLean and Team Saskatchewan faced off against Team BC in the bronze medal game. Coincidentally, the BC roster featured future Reds teammates Myah Bowal and Kendra Woodland.
A third generation player, MacLean wears the number 47 in recognition of her grandfather Paul's birth year, a UNB competitor during the 1960s. In addition, her uncle Dax, starred on the UNB national championship team in 1998. Fast forward to 2022, and MacLean added another championship to her proud heritage, enjoying the Atlantic University Sport (AUS) title.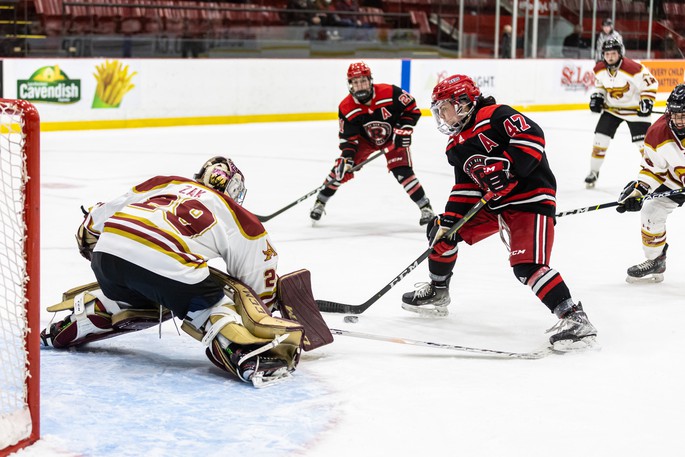 Along with the milestone of participating at the U Sports Nationals, MacLean amassed several individual accolades. Gaining recognition as the Reds Defensive Player of the Year Award, along with the prestige of the AUS version of the Award, this distinguished double affirmed her place as one of the greatest to wear the Reds jersey.
Considering that MacLean was among four Reds to capture AUS awards, including Jana Headrick (Community Service), Ashley Stratton (Most Sportsmanlike) and Sarah Hilworth (Coach of the Year), it emphasized the seismic shift in the conference balance of power.
In addition, she joined teammate Kendra Woodland on the AUS First-Team All-Stars.
"It was a great honour being recognized as the AUS Defensive Player of the Year. The league is full of so many good players that could have been named to this Award. Being able to play with and against them all season makes me a better player in every aspect.
I came to UNB with very little experience playing defense, so I give a lot of credit to my coach Pamela Pachal for my defensive abilities on the ice. She has taught me to take my defensive game to the next level."
To continue reading, click here: WomensHockeyLife.com