Amassing a brilliant series of goaltending performances, Camryn Drever emerged as the Saskatchewan Huskies postseason heroine. Starting with the Canada West tournament, followed by the U Sports Nationals, Drever, amassed a superlative four shutouts in only nine playoff games, propelling the Huskies to national prominence.
Raised in Edmonton, Drever had long established herself as a prime time player. Starring between the pipes for the St. Albert Slash, appearing in the Esso Women's Nationals (EWN), she also tended net for Team Alberta at the Canadian U18 Nationals. Recognized as the Top Goaltender at the 2017 EWN, she also garnered Top Goaltender honors in league play as a member of the Slash for the 2017-18 season, respectively.
Adding more accolades and honors in a magical playoff for the Huskies in 2022, Drever played brilliantly in the Canada West tournament. Proving essential in series sweeps over the Manitoba Bisons and Mount Royal Cougars, allowing only three goals over the course of those series, Drever amassed 124 saves.
Perhaps the most impressive aspect involved the fact that all four wins took place on the road. Despite the fact that the University of British Columbia Thunderbirds captured the Canada West title, Drever played with tremendous tenacity in the Finals.
Despite outshooting the Huskies by a 34-14 margin on their home ice, a scoreless draw after regulation required overtime to decide the conference championship. Although the loss was, understandably visceral, for Drever, their collective performances as road warriors throughout the playoffs, ensured potential for greater glories at Nationals.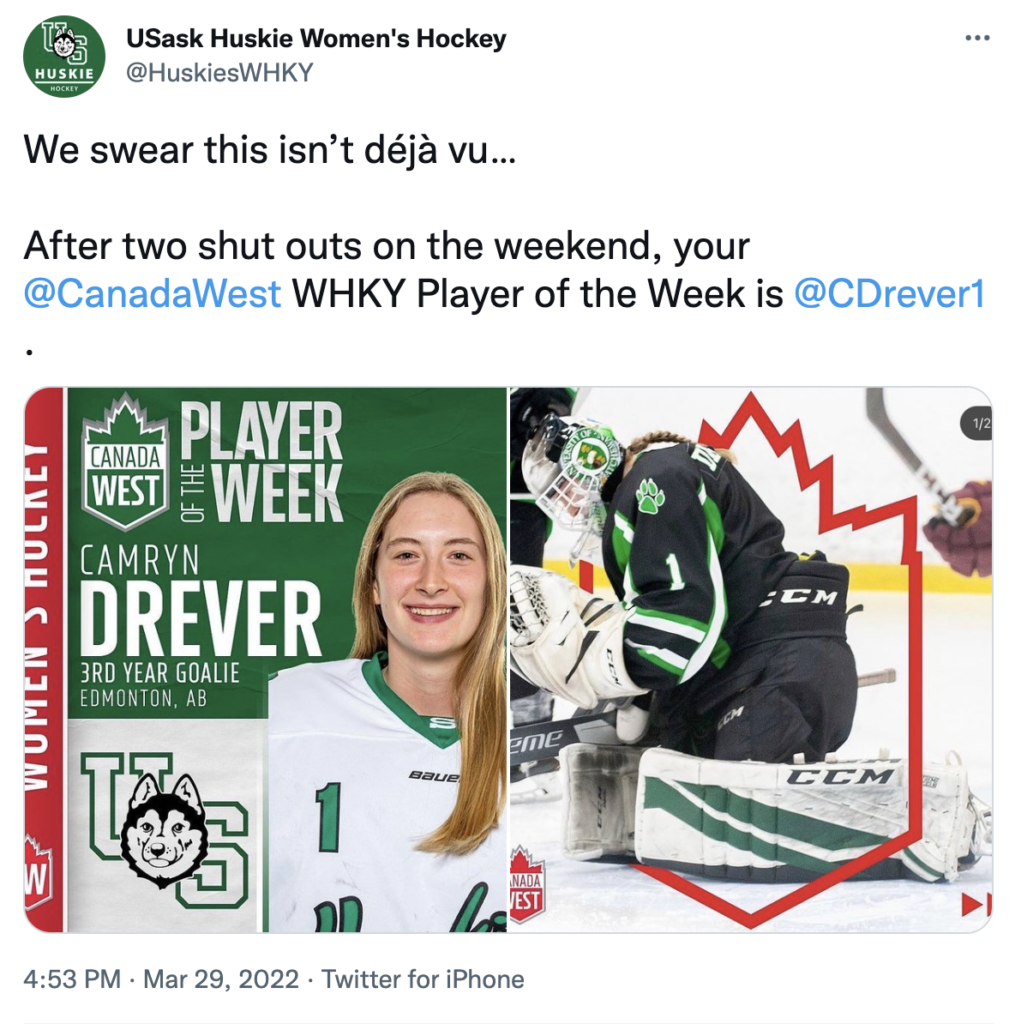 Backstopping the Huskies into the medal round at Nationals, contested in Charlottetown, PEI, Drever posted a shutout versus the AUS champion University of New Brunswick Reds to clinch the bronze medal. Recording 17 saves, while Kendra Zuchotski and Jasper Desmarais contributed goals, Drever earned recognition as the game's Top Performer for the Huskies. Resulting in the second podium finish in program history, it marked her finest hour,
"It was very special to get a shutout in the bronze medal game. What a way to end the season with the team. I never thought that was how it was going to end but the team worked so hard all season. I really pushed myself this year too and that is a game I will never forget!"
To continue reading, click here: WomensHockeyLife.com