With an exceptional legacy of elite goaltenders, the presence of Tricia Deguire between the pipes maintained the status of the McGill Martlets as a nationally prominent program. Building on the legacy established by the likes of Kim St. Pierre, Charline Labonte and Taylor Hough, among others, Deguire made a remarkable impression in her inaugural season.
Taking on the starter's role, Deguire excelled, appearing in a highly impressive 40 games. Leading the RSEQ in three statistical categories, including wins and Goals Against Average, her stellar play resulted in the conference Rookie of the Year Award.
Earning a place on the conference First Team All-Stars, her haul of hockey hardware included the U Sports Rookie of the Year, respectively. This triple of acclaim served as the foundation for a brilliant career, filled with many memorable moments.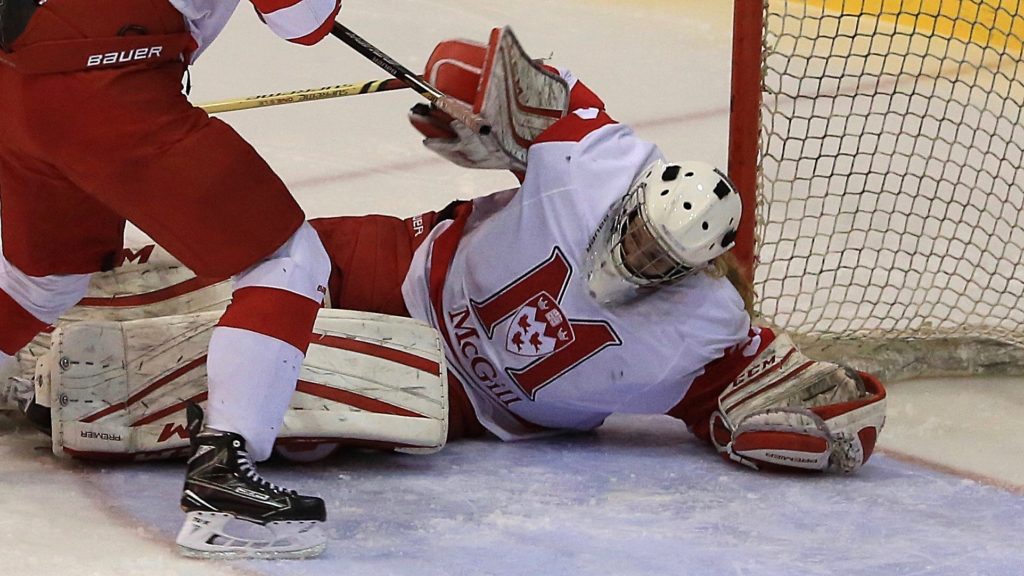 Winning a pair of RSEQ postseason tournaments (2017, 2019), Deguire and her fellow Martlets enjoyed four trips to the U Sports Nationals. Among the highlights at Nationals included appearances in the gold medal game versus Alberta (2017) and Guelph (2019). Having also qualified for the 2020 Nationals, the opening round match versus the York Lions never occurred, the event cancelled over pandemic concerns.
Returning to Nationals in 2022, it brought Deguire's career full circle, solidifying her standing as a program great. Just as important for the highly skilled goaltender involved recognition as a 2021-22 RSEQ First Team All Star, signifying a crowning achievement for the celebrated goaltender. Taking into account the quality of goaltending in the ultra competitive conference, the honour holds tremendous prestige for the very proud Deguire,

"It is always fun and rewarding to be named to the All Star teams. It gives you confidence and makes you happy, but it came by surprise. People who know our league also know that there is a ton of great goalies in our league that make the difference.
Therefore, having the chance to be named at the end of my career is just an incredible, unexpected surprise. It gives me the feeling that even if the ending were not what we expected, I still have something that I have done right this season."
To continue reading, click here: WomensHockeyLife.com